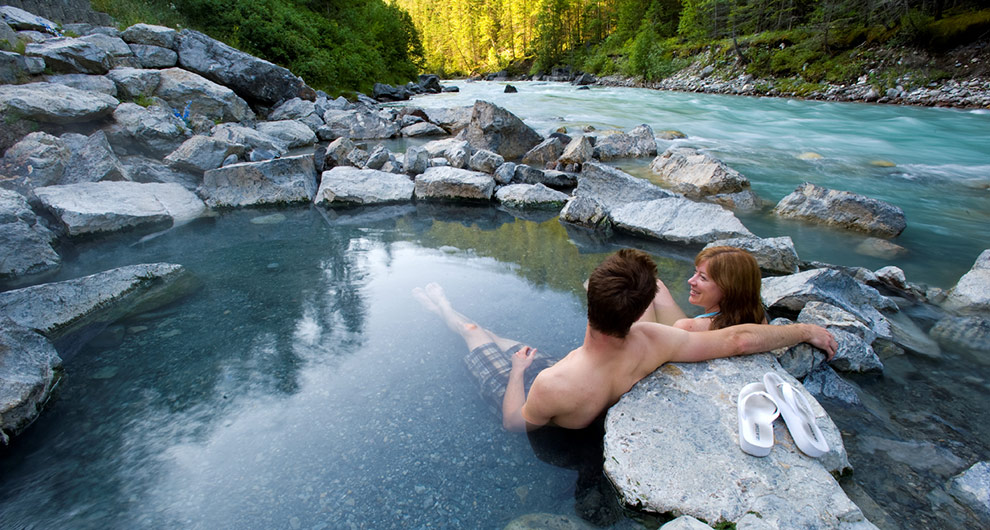 Lussier Hot Springs, Whiteswan Lake Provincial Park. Photo Credit: Hellobc.com
There is something rather magical about a hot spring: the hot, therapeutic water soaking tired muscles and the chance to slowly breathe in the steam as you admire the snowy, starry surrounds.
Canada abounds in natural beauty with hot springs available in every size, shape and form. Whether you prefer diving into a hot spring swimming pool or soaking in a completely natural thermal lake, there is something in this diverse and scenic country for everyone.
Here are our top seven hot springs to visit in Canada…
Hot Springs Cove, Vancouver Island
Hot Springs Cove is one of the most incredible, and also one of the most famous, hot springs in Canada.
Tucked away within Maquinna Provincial Park, Hot Springs Cove offers a variety of hot water pools that can be reached by half an hour's walk along a forest trail – and they provide a rewarding soak at the end of it.
Start off in the hot pools that reach a sweltering 43 degrees Celsius and gradually make your way down through the pools that cool off to ten degrees Celsius as you start getting closer to the ocean. What's more, Hot Springs Cove is completely free to enjoy!
Miette Hot Springs, Jasper
With breath-taking views of the Rocky Mountains, Miette Hot Springs are the hottest mineral pools in the Canadian Rockies at a scorching 40 degrees Celsius.
And as the winding mountain road that leads to the hot spring offers the chance to see Punchbowl Falls, an old coal mining site and the Ashlar Ridge Viewpoint, the hot pools certainly aren't the only attraction in this neck of the woods.
That being said, Miette Hot Springs still remains one of Alberta's best kept secrets and these two commercial hot pools are seldom overcrowded – but you will have to pay a fee to use them.
Lussier Hot Springs, Whiteswan Lake Provincial Park
If you prefer the natural type of hot pool, you'll absolutely love the Lussier Hot Springs located within Whiteswan Lake Provincial Park.
These undeveloped natural hot pools are essentially heated rock pools and the hottest one reaches a toasty 43 degrees Celsius.
If the water is too warm for you, make your way down through the mineral pools that lead towards the Lussier River until you find a temperature that you like. This hot spring is free to enjoy.
The Ahousat Hot Springs, Flores Island
Set on the edge of the Matilda Inlet, the Ahousat Hot Springs in Gibson Marine National Park is made up of a natural geothermal hot spring tucked within a beautiful coastal rain forest.
Accessible only by air or boat, the hot water pools (popular among some 20,000 tourists a year) reach a peak of 25 degrees Celsius.
Ahousat Hot Springs offers some of the most scenic views in British Columbia: overlooking the stunning bay, you can boat and whale watch from the edge of the concrete pool.
Dewar Creek Hot Springs, Purcell Wilderness Conservancy Provincial Park
The Dewar Creek hot spring is one made for adventure lovers. Located within the stunning Purcell Wilderness Conservancy Provincial Park, these hot springs are reached only by horseback or by hiking the nine scenic kilometres to the mineral spring.
Some of the hot pools are simply too warm for casual bathing, reaching a maximum temperature of 80 degrees Celsius, but there is one pool that offers a satisfying soak.
Banff Upper Hot Springs, Banff
Soothe tired muscles in the healing waters of Banff Upper Hot Springs, found on the slopes of Sulphur Mountain. The hot spring is made up of just one large hot water pool overlooking Mount Rundle and the water is kept between 37 – 40 degrees Celsius.
As this hot spring is one of Canada's most popular tourist attractions, the pool can get rather busy in peak season and you can expect to pay a fee to use it.
With many therapeutic qualities, there is no better way to relax than with a soak in a hot water pool. Which Canadian hot springs do you want to visit?