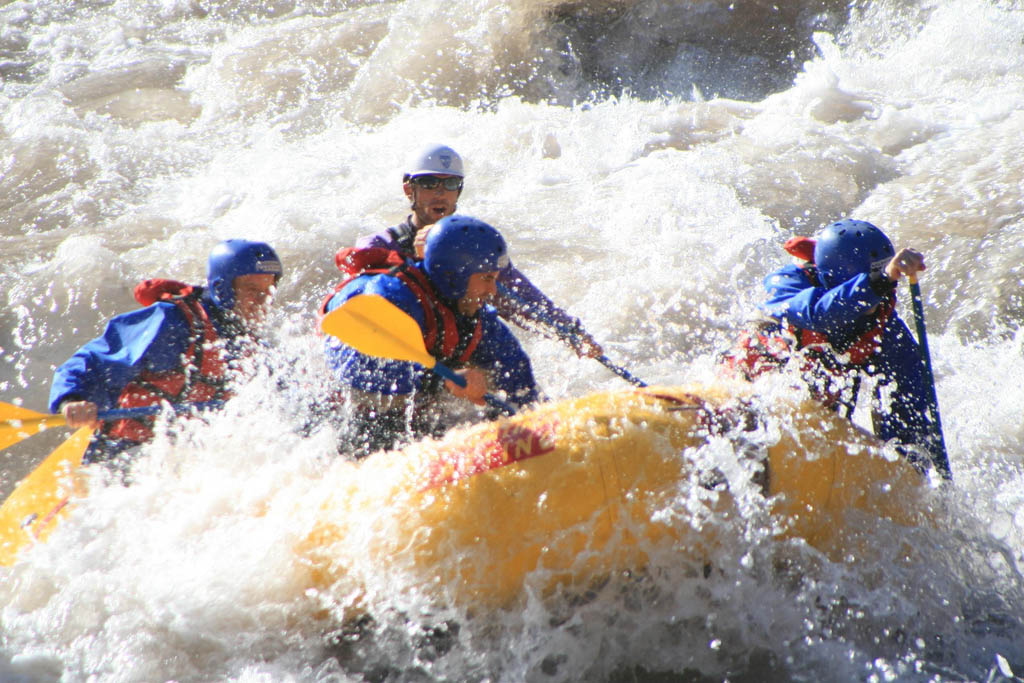 Canada is a water sports lover's paradise with an abundance of beautiful rivers, lakes and seafront to explore both inland and along the coast.
And while you can certainly enjoy more than your fair share of peaceful water sports in this spectacularly scenic country, there are also several exhilarating Canadian water sports that every adventure traveler should add to their bucket list.
Plan the ultimate waterside getaway in Canada and see how many of these exciting adventure water sports you can tick off your bucket list:
Go Snorkeling With Seals
Do you dare to enter the open water at Snake Island just a short boat ride from Nanaimo in Vancouver, home to all sorts of incredible marine life?
Don your goggles and snorkel gear and hop into the cool water to swim alongside seals and other waterborne wildlife – a truly unforgettable experience where you can witness the seal's hilarious water aerobics both above and beneath the surface of the water.
This exciting half day adventure is a great way to get up close to seals in their natural habitat. Plus, this water sport is open to all snorkeling levels – no training is required.
Tackle a White Water Rafting Trip
White water rafting is a water sport that is not for the faint hearted.
And the white water rafting adventure you can enjoy along the Kicking Horse River in the Canadian Rockies is one of the most exciting – and scenic, if you found the time to look up from the whirling river ahead of you.
This adventure can be enjoyed from various locations across Canada, departing from Banff, Canmore or Lake Louise and begins with a calm paddle down the Kicking Horse River before entering the adrenaline-inducing class 4+ rapids.
Hold onto your raft and try not to fall overboard as you plunge down these thrilling and turbulent rapids. End the day with a beach barbeque as you dry off and rehash the excitement of the day with your fellow raft mates.
Paddle Out on a Sea Kayaking Adventure
There's no better way to discover the spectacular ocean views and fascinating sea caves in Trinity than by an eco-kayak tour.
You'll start by towing your kayak to a remote location on the water and then paddle your way back through the ocean waters to Trinity Harbour, traveling past the most extraordinary scenery.
You'll see all kinds of marine life native to Canada, such as whales, seals and various bird life that call the nearby islands home. For an extra adrenaline kick, you can join a whale watching expedition that departs from the harbor in an inflatable boat to see extraordinary icebergs and whales close up.
Board an Open jet boat tour at Niagara Falls
Jump on board an open motorboat for an exhilarating adventure just a few miles from the turbulent Niagara Falls.
Feel your heart in your chest as the boat enters the vortex of the Niagara Whirlpool until the boat revs its engine and zooms out of the spiral.
Head down the Niagara River where the boat will do the famous "Hamilton turn" – a 360 degree turn that sends up an enormous spray of water as you turn around and enter your own wake.
As if that weren't adventure enough, you'll then head into the class rapids known as the Devil's Hole. Prepare to get wet!
Experience a Flyboarding Adventure
Feel the powerful rush of your jetpack as you blast out of the water and soar high above the surface of the water.
A jetpack adventure, also known as flyboarding, is one of the most exciting extreme water sports you can enjoy in Canada – but rest assured that it's also very simple to enjoy!
A certified instructor will give you the basics on how to manage your jetpack and you'll be flying above the water in no time. After a few minutes "finding your feet", you'll have the chance to test out a few exciting new tricks and it won't be long before you've caught what's known as "Flyboard Fever".
What are your favourite adventurous water sports to enjoy in Canada? Let us know in the comments below!
Image Credit: Udi on Flickr